It's important to hold on to your own sense of style when you have a baby. Fortunately, it's increasingly possible to find products for newborns and toddlers which won't look out of place in your personal habitat. If you're buying for new parents, purchasing them a gift which reflects their taste adds a much-appreciated individual touch.
Following are some unique gifts for new mums and babies which fit effortlessly into a cool, hipster aesthetic. You don't have to give up on your style, even though your toddler might not share your enthusiasm for craft beer quite yet.
1. MOUSTACHE DUMMY -  £5.99 
Moustaches have become synonymous with the hipster look. This miniature moustache will make a witty, unusual baby gift. It will soothe cantankerous babies and amuse curmudgeonly adults alike.  
2. MY DAD USED TO BE SO COOL - £7.79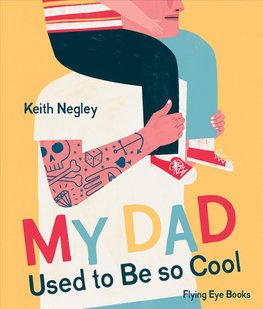 This visually-striking book is a funny, touching gift for new mums and dads. A little boy boasts about his father's younger days as a guitar-riffing, motor-bike-riding hell-raiser. Through the eyes of his son you watch as the father adjusts to his new role. He's still as cool as he's ever been, but perhaps in a slightly different way. The illustrations are elegant and well-conceived, the use of colour and geometry makes this more than the usual children's book.
3. HIPSTER FOX DECAL - £12
This refined and bookish fox makes a quirky, hand-drawn baby gift. She will fit snugly into your home, and enchant your children. She can be removed and reapplied several times, and comes in a variety of different sizes, depending on if you want her to nestle above your kitchen counter or stretch out over your living room sofa. The application process is a fun activity in itself, children are fascinated to watch her image appearing on the wall. 
4. COOL HIPSTER CAT BODYSUIT - £12
Tony Fernandes is the whimsical UK cartoonist responsible for this eccentric blue cat. His plumes of whiskers and rakish sunglasses mark him out as a feline hipster, this is a delightful gift for mums who love cats and supporting UK artists. This white romper is made from soft cotton with three snap closure for easy nappy changes. 
5. RIB KNIT KIDS HAT - £16
As the grass begins to frost overnight, nothing will keep your toddler snug like a rib knit hat. This storm-grey beanie is made from a soft wool blend yarn, featuring a faux leather detail. Looks chic whether you're in the middle of a forest or listening to live music in Shoreditch. An ideal gift for mums who like to walk, and want to bring their toddler along.
6. PLAID FLANNEL SHIRT - £16
An autumnal woodland stroll will be made complete with this cosy plaid shirt. With dusky greys and reds and chambray trim this shirt would be worthy of a member of Arcade Fire. This makes a warm Christmas gift for a new baby, it's ideal for winter layering.
7. MUMMY'S SIPPY CUP - £17
You're still entitled to a little mischief when you're a mum, and that's the spirit of this wry 'sippy cup'. The traditional German beer mug is adorned with a droll floral wreath and the words 'Mommy's Sippy Cup.' An impish gift for a hardworking mum, this will show that you haven't forgotten her old antics.
8. CAMERA - £26
Children learn about the world by watching their parents. If one of their parents is a photography enthusiast they'll want to try it out for themselves. This clever little camera with its denim strap and coral perspex lens works as a kaleidoscope, or just as a chic accessory to a great outfit.
9. WORKBENCH - £136 
The hipster subculture has always supported artisans. This workbench encourages an appreciation of immaculate craftsmanship, both in its roleplaying opportunities and its own fine birchwood construction. It inspires hours of creative play, and who knows? After this perhaps they'll be producing some homemade mothers' day gifts.
10. BALANCE BIKE IN VANILLA - £139
Balance bikes are an innovative way to practice for pedal bikes later on. This vanilla, vintage-style bicycle will help your child develop their motor skills, zooming through meadows, along cobblestones and across the garden. The seat and detailing are weatherproof, easy to clean and durable, so this bike will last for years of outings. This makes a truly memorable gift for a mum, dad and toddler.