There is nothing more intimate and relaxing than reading with your child. Hold them close and travel through the pages of these fabric books for some quiet, reflective interaction. Sensory children's books have been shown to aid language and social development, as well as fine motor skills. It helps children learn how to use their senses just as they learn how to use their minds.
These books are created by a number of independent, inventive brands. They're committed to producing soft books that are both stylish and robust enough to survive a toddler's teething phase.
1. IF I WERE AN ELEPHANT - £8.50
Jelly Cat are responsible for the plushest, quirkiest soft toys available. Now they have board books to go along with some of their most popular animals. If I Were an Elephant is both soft and resilient, containing a variety of different textures as well as an eggshell blue tail. A toddler's vocabulary will grow as they begin to identify new surfaces as either soft or scratchy, smooth or rough. 
2. ALIEN BABY CLOTH BOOK - £8.75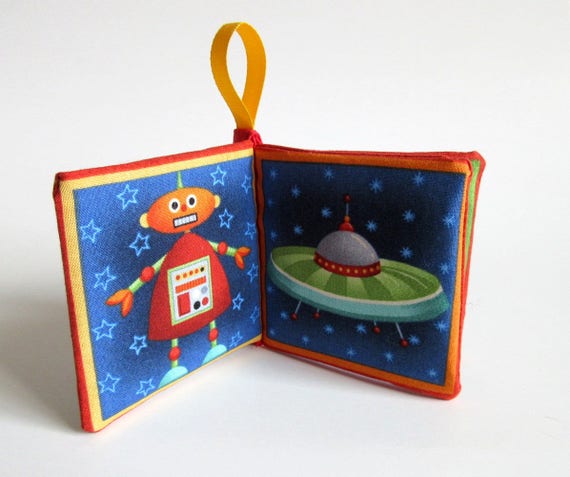 These dream-like illustrations of aliens and spaceships will fascinate toddlers, making clothes and nappy changes easier. Piene Annka, who sews these cloth books by hand, is inspired by the German and Northern European attitude to child-raising. The vivid colours, soft fabrics and crinkling pages are all a nod to a child-friendly German aesthetic. 
3. FRIENDLY FACES MONOCHROME BABY GIFT SET - £9.94 
These animals certainly do look very friendly, sporting little smiles and rosy cheeks. They're also helpfully labelled so a baby can start learning the names. The husband and wife team that makes up Wee Gallery believes that bold lines and repeating patterns promote brain development, and help redirect attention. 
4. HUSH SOUND BOOK - £9.99
A long-suffering bear cub tries to fall asleep within the pages of the Hush Sound Book, but is interrupted by a variety of woodland noises. A hooting owl, a meowing cat, a chirping cricket are all featured in this press and listen book. This is another Wee Gallery book, the high-contrast black and white images help aid visual development, baby focus, memory and concentration. 
5. VIBRANT VILLAGE PEEK PLAY ACTIVITY BOOK  - £12
This creative activity book can also be folded into a miniature playhouse. It's two-sided and contains ribbons, a teether, a peek-a-boo game, and even a baby safe mirror. Skip Hop reliably turn out well curated, fun and urban products for modern parents. 
6. ORGANIC SOFT BOOK SET - £20  
Petit Collage are known for their eco-friendly learning toys, their materials are recycled, sustainable and plastic-free. This ultra-simple and pared-down baby book is made with organic cotton and natural ink and comes with a matching teether which helps to soothe gums. 
7. KONJES SLOJD FABRIC BOOK - £20
Delicate images of music boxes, flowers, bees and insects populate this uber stylish cloth book. The pages crinkle softly and the sparingly chosen colour is used in exactly the right places. Konjes Slojd is a firm based in Copenhagen, Denmark, which is interested in simple Scandinavian quality, and appealing to adult tastes as well as to babies'.
8. HIGH CONTRAST BABY - £23.55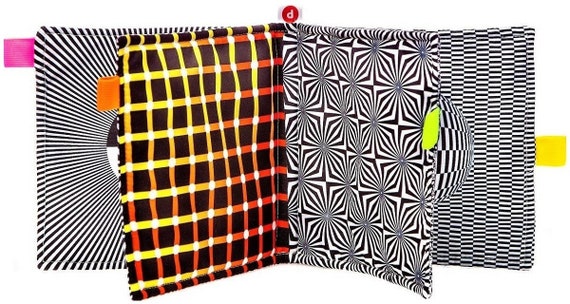 Polish handicraft workshop, Parenti Pacek, was initially inspired by the instructions in the LEA vision tests for infants and Vernier's phenomenon. These optical illusions will help prevent eye deficiencies by engaging eye muscles in coordinated movements. Toddlers will be enthralled by the kaleidoscopic black and white patterns. 
9. QUIET BOOK WITH FAIRY FLOWERS GARDEN - £96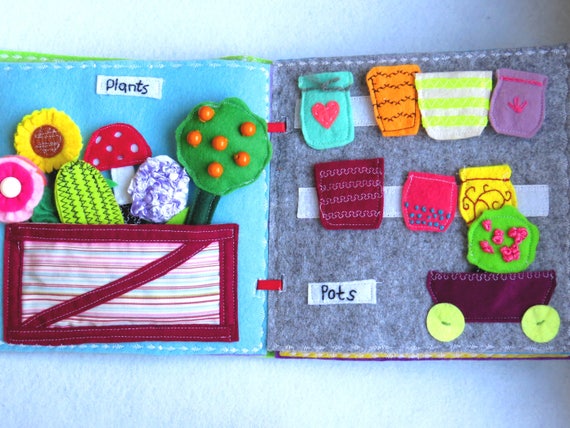 The series of quiet books produced by Papa Doma are some of the most intricate and lively examples of the genre. They're intended for slightly older children, 3+, because of their fine detailing. This fairy flowers garden contains planting puzzles with packs of seeds, meandering bead mazes and a luxurious mixture of velvet, ribbon, bells and satin. The founder Papa Doma is based in the Ukraine and began making these quiet books for her own son. 
10. COBBLE AND THREAD QUIET BOOK - £186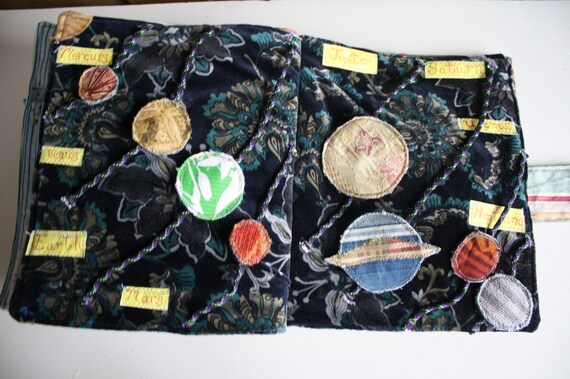 This quiet book is to be treasured for generations. Made from eco-friendly materials, such as salvaged upholstery fabrics, this heirloom is an exquisite mixture of textures and colours. The simple puzzles and expertly arranged images will enchant any observing adults as much as the children. This is a delight to sit down with and spend an hour or two reading together. Rain Harbinson, founder of Cobble and Thread, lives in Wyoming, and is dedicated to returning unloved fabrics to their true beauty.