Gone are the days when 18th century schoolboys donned their sisters' extravagant chintz gowns. In fact, studies show that toys are more gendered now than 100 years ago. This might be good for marketing executives at Fisher Price, but it's bad for rowdy girls, dainty boys and people attending gender-neutral baby showers. Yes Susan, we know you want it to be a surprise, but dammit, do I buy a romper in pink or blue?
Following is a list of gender neutral baby gifts for your unisex baby shower!
1. HUMAN ROMPER – £14.94
This romper features the word 'human'  in the colours of the non-binary flag. Makes a political statement and is also useful if you briefly forget what species your baby is, which would be understandable given the kind of noises they make. This is a baby gift for a free spirit!
2. DENIM BABY SWADDLE - £19.99
Don't be fooled by the blue – this is a swaddle for boys and girls! Denim has been empowering women since the cowboy craze of the 1930s. It's a fabric of equality, industry, and dancing on bars in the early hours of the morning. Perfect gift idea for a baby boy or girl.
3. BABY SLEEPING BAG - £22
Is this a dress, you may ask. Well, the answer is no! This is a unisex toddler sleeping bag. Any small boys hoping to look fabulous can don this stylish garment without having to confront any pesky gender norms. Guaranteed to keep feet toasty, this is a high-class gift for a baby angel.  
4. ELEPHANT ACTIVITY BOOK - £22.95
It has not always been a truth universally acknowledged that females are able to read. However, subsequent studies have revealed that women are in fact capable of correctly deciphering the glyphs that make up our written language. Hurrah! This book offers an early window onto a truly unisex activity. There aren't any actual words in this activity book, but it's good to chew on and makes a great gift for a new mum and baby.
5. NOODOLL RICEPUFFY LARGE PLUSH TOY - £36
Many animals reveal their gender in their appearance. Male lions have manes, male deer have antlers and male humans have moustaches, all glorious appendages ideal for attracting the opposite sex. One animal which remains genderless is monsters! It's impossible to tell if different monsters are even the same species as each other, let alone the same gender. A truly unisex baby gift.
6. BRONTOSAURUS TABLE LAMP - £45
Some might argue that this brontosaurus table lamp is aimed at boys, after all only men are interested in colossal pre-historic giants right? Think again! Not only do many girls long to be palaeontologists, this particular dinosaur is unmistakable female. Notice her blushing cheeks, her coquettish expression and her mains power cable… wait, what?  
7. SWIVEL ARMCHAIR - £50 
Is society's overwhelming gender expectations becoming too much for your child? If that's the case they can hide from the world with this swivelling egg chair, and pretend to be an incubating pigeon, or some other animal without a patriarchy. Order this great gift for mums and kids online!
8. BAMFORD BABY COLLECTION GIFT BOX - £65
All babies have skin, and all babies like elephants, that's one thing everyone can agree on! This makes this baby gift box an ideal unisex present.  
9. CROCHET FARM - £86.25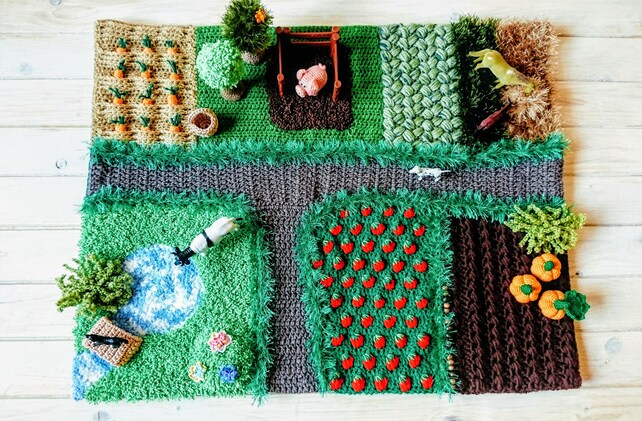 Many of our favourite vegetables are both male and female. For instance tomatoes, peas and cucumbers are subversive, gender fluid trailblazers. Let your toddler learn from their courageous acceptance of their dual identity with this adorable crochet farm, complete with crochet vegetables. Spinach plants, on the other hand, are either male or female. Geez, I would never have guessed spinach is so heteronormative. 
10. SKIP HOP VIBRANT VILLAGE ACTIVITY GYM - £90
Urban city-scapes are a paradise for the metrosexuals of the future! Boutiques cater to whatever possible way men or women might want to express themselves. This vibrant village play gym will prepare your toddler for a city of acceptance, artisanal coffee shops, feather boas and avoiding eye-contact on public transport. Fab gift for mums who love Sydney, Tokyo, New York and London living!